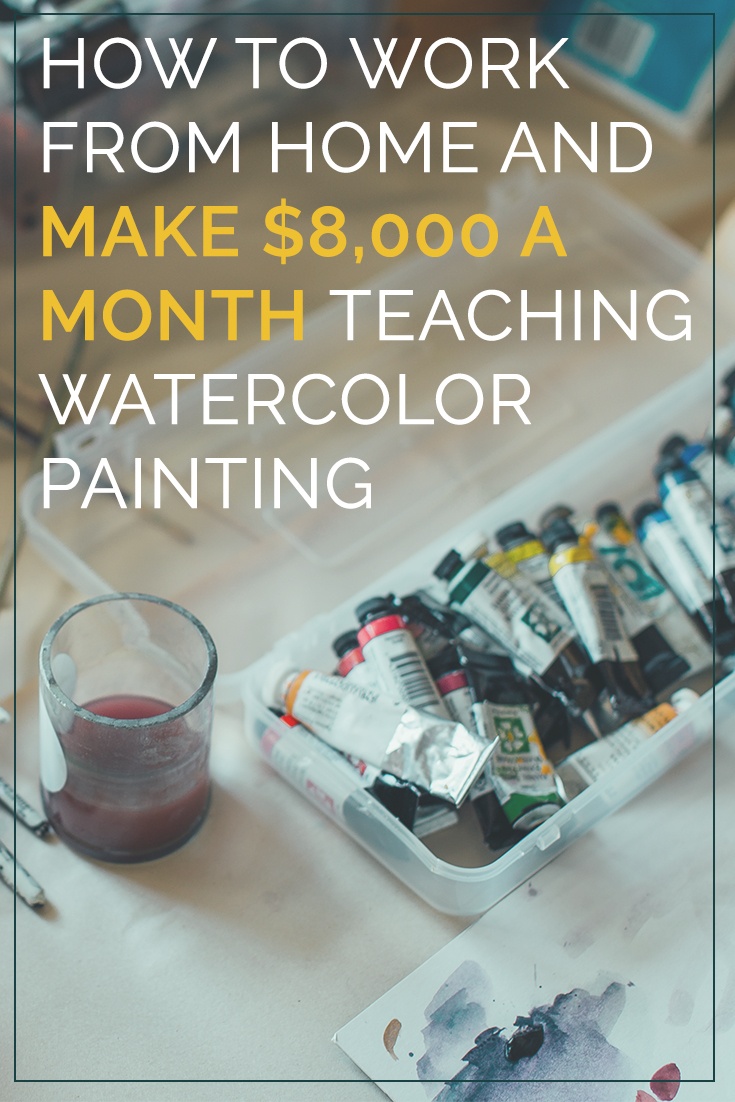 This week, I want us to dive into a success story from Angela Fehr, a self-taught artist and founder of her own online school in watercolor painting.
Since launching in Summer 2014 in her spare time, Angela has grossed over $12,000 in sales with her first course.
Now, Angela's newly released Composing Basic Landscapes in Watercolor course has already made $7,000 in less than a month.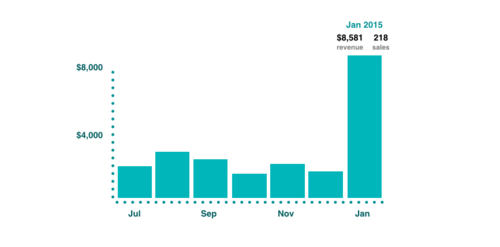 Angela is unique compared to a lot of other successful course creators out there - she doesn't focus on helping someone become a professional, or to earn more. Her content doesn't have a particular outcome outside of personal enjoyment and self expression.
Let's go through 8 takeaways that came out in a discussion with Angela that have built up to getting her to $8,000 in sales over the past month.
1. Grow her audience with free content
Instead of keeping all her content under wraps, Angela is generous in giving out free instructional videos to garner the attention of new potential students.
YouTube Channel
Over time, by adding quality video's with tailored messaging Angela's YouTube channel has grow to almost 19,000 subscribers, which has helped distribute her free content and which she then links back to her site or courses:
She also links from her most popular videos directly to her courses and has started using a bit.ly created link to track clicks:

Facebook Page
Angela set up a Facebook page where she posts course updates and other freebies.
Although she has only 1,700 likes, after updating her free course and letting her audience know her they reacted with over 100 likes and 17 comments.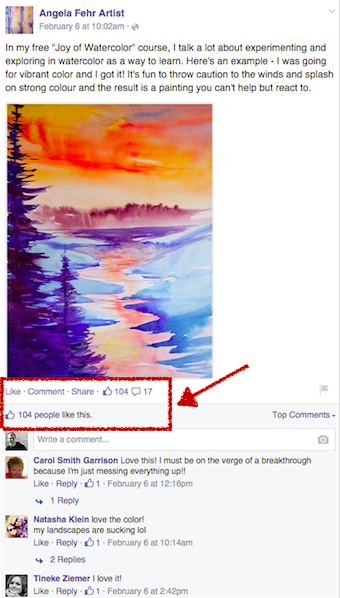 Her personal website
Another source where people find Angela is through her personal website to for any Google search traffic.
2. Offer a free course to hook students
A student's first experience with Angela's actual courses is often a free course which she promotes actively in her YouTube channel and other channels.
By directing students to a free course with a strong user experience, Angela is building a relationship with new students.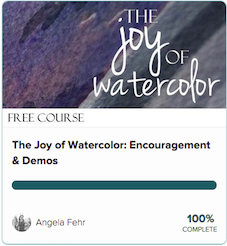 Offering a free course gives students other benefits that can't find on YouTube such as:
A better, and ad-free user experience
Downloadable videos for offline viewing
Lecture completion and progress tracking
Her free course gives students who are on the fence, a preview of her teaching style, while importantly getting their contact information.
3. Launch "mini courses" to transition students from free to paid
Although Angela has two full $99 courses, if you look on her site, you'll notice a total of six courses which include one free course and three $20 courses.
While developing her larger courses, Angela developed these mini courses to provide value at a lower price and keep the relationship warm with her list.
When a student pays for one of these courses initially, there's an added benefit of getting them use to the format where they can submit a project, get critique and an interact with Angela and others in the class.
Before her recent January $99 course launch, Angela offered a Holiday Watercolour Mini Course for $20 as a way to build anticipation for the upcoming launch.
"In the Christmas mini course I created a floral painting and a landscape painting demonstration - students who take this course may find it piques their interest in taking the floral or landscape full courses. I consider them "trailers" for the "big" courses."
This initial purchase also securely saves students financial information within Fedora making new purchases easier. This approach is so effective, that once a student pays for one of Angela's courses, they'll often end up going for all her courses.
4. Launch a new premium course
By providing a great experience and owning her audience, Angela can reliably launch a new course to an engaged group she knows appreciates her work instead of having to find new students.
For the new launch of Composing Basic Landscapes in Watercolor, nearly 150 students or 25% of previously enrolled students went to purchase her course in the first four days of launch.
Angela's plans to continue to focus on building out new courses and freebies to keep students engaged, while more students continue to come in and sign up for her courses.
5. Provide a full course offering
You'll notice Angela has a full funnel of course offerings going from YouTube, to free to online and even to personal coaching for $150 CAD per hour.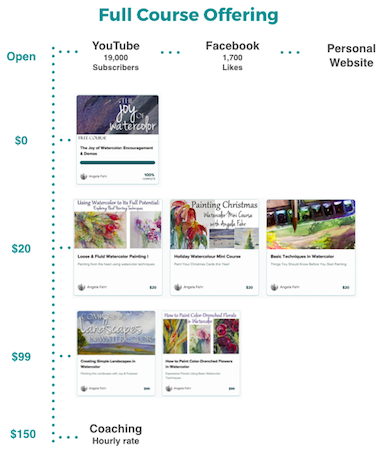 It's a lot easier to get someone to try a free course, than it is to jump into something paid. Without much additional work Angela is able to have a course to fit anyone's budget. This also creates a stepping stone for students to move between courses.
6. Automating emails to new sign ups
Once a student joins Angela can immediately get in touch and start providing value over email.
To get back sooner, Angela has an autoresponder set up (through Teachable's MixPanel integration) which sends an email to new students who joins her free course or school.
Often, new students aren't aware of the full course offerings, so Angela focuses on providing more information. Here's an example of an email she currently is running, which introduces her approach and current offering:
Watercolour is truly a beautiful journey. As a watercolour artist, I paint for the love of the medium, and I love sharing the joy of painting with my students.

Watercolour is truly a beautiful journey.

Can I help you decide on a course to join? Here's the rundown on what's available:

"Exploring Fluid Painting Techniques": My very first online course. This course covers an introductory view on learning to paint fluidly in watercolour. Basic techniques are covered, as well as editing and composing your first painting using an object as focal point. This course is priced at $20.

"Composing Simple Landscapes in Watercolor": My newest course, this course is focused on using watercolor painting techniques to compose simple landscape paintings and includes an introduction to composition, value, color theory and perspective. Three hours of video is used to teach, with four paintings demonstrated from start to finish. This course is priced at $99, however you can purchase the course for 50% off using this link.

"How to Paint Colour-Drenched Florals in Watercolour": This course continues exploring fluid painting techniques using flowers as the subject. Techniques covered include positive and negative painting, using edges to guide the eye through the painting, special effects and how to incorporate them into a painting, and much more. This course assumes an understanding of basic techniques, and includes free access to my "Basic Techniques" class.

Basic Techniques Course: I've included this course as an introduction to beginning artists. The videos in this course give information on materials to use and painting techniques, however, you shouldn't need to purchase this course if you are taking the "Fluid" class since the same information is covered in the class. If you are taking the "Floral" class, you will receive a coupon code for free access to this "Basics" class.

"The Joy of Watercolor": This is a free gift to aspiring watercolor artists. I will be sharing videos encouraging you in your watercolour journey and demonstrating painting techniques. At this time there is just one video in the course but I will be adding more as time permits.

I am happy to answer any other questions you might have, just reply to this email.

Enjoy your watercolour adventure!

Angela Fehr
By immediately messaging her students, Angela is able to add value and build trust, while also getting potential sales.
By asking for feedback in her initial email, she's also learning the common concerns students experience and addressing them immediately with a personal touch.
7. Offer limited-time discounts
Although Angela values her main courses at $99, she creates limited-time specials to make signing up a little easier for students transitioning from free to paid, or from a smaller course to more expensive options (link to setting this up in Teachable).
Setting a time limit, such as four days on a discount creates urgency to motivate students to sign up sooner and get the ball rolling.
8. Understand your audience
Through interactions with students, Angela has found a lot of her paying students are older, new to technology as well as learning online.
While they may have neglected a creative education when they were younger, they see value in it and now have time to pursue at a older age.
To address this, Angela makes it a priority to respond quickly and gracious and patient, even with simple technical difficulties over email.
Angela also often speaks about the empowerment of pursuing painting in her course copy as well as videos such as:
"art is creative therapy"

"log a lot of 'brush miles' to improve as an artist"

"if you're frustrated it's because a breakthrough is right around the corner".
Although her courses courses aren't necessarily flashy, as an art educator, it's all about the approach.
In Angela's words, "The goal is not just explain techniques clearly, but to make watercolor approachable and encouraging."
Next steps and takeaways from Angela
In the near term, Angela plans to build off her success and create more courses for her audience.
She's happy to be able to continually improve, experiment with new marketing efforts all while keeping her expenses and the amount of time she invests low.
Here's some more from her on how she's incorporated teaching online into her lifestyle:
"As an artist living in a rural region of Canada, it has been difficult for me to build a reputation and make an income as an artist.

Teaching online has broadened my customer base, provided me with a reliable source of income (sales do rise and fall but growth has been fairly predictable and linked to my marketing strategies).

Every time I teach a new course, I learn more myself, as I seek to provide the best information and explain my techniques clearly.

I also have enjoyed building an online community through the discussion section of the course, and a "Student Gallery" where students can post their work and receive guidance and critique from me. Also, praise and encouragement of the other students participating in the course.

I'm very excited about the future and I just have to say that teaching online has been a great fit for me as a part-time artist, and stay-at-home Mom of three. I'm building a career & reputation without leaving home."
Now, let's take a minute to discuss. Do you have any questions for Angela? What's your #1 takeaway from this post that you're not doing right now? Answer below in the comments!